About Us
We're a small Mom and Pop operation that believes in a good smoking pipe for our herbs.
History Of The Original Sneak A Toke from the owner
In 1976 I had a friend named Herbie. Herbie was a guy born and raised on a farm in a small town in Indiana. He was one of those guys that could figure out and fix any problem with any engine. But he couldn't roll a joint. So one day he took a metal tool that was used in automotive air conditioning system repair, cut it, drilled it, pushed a couple of screens in and forced a rubber distributor cap nipple (before electronic ignition) on one end.
He showed it to me and we filled it with some cleaned-up seedy, stemmy smoking material, most likely from Mexico. That was all that was available to us poor folks back then. It smoked like a monster! And it put itself out after each hit, so you could drop it into your pocket immediately. And it held at least a dozen hits. I said, "Herbie, we can sell these!". And he said, "Go ahead". So I did. And that's how the Sneak A Toke came to be. Since those early days in 1976 I have constantly been thinking of ways to improve the Sneak A Toke. We now have the Screenless Sneak A Toke. As well as our latest product the High Efficiency Sneak A Toke pipe. This pipe uses cartridges so you can use your pipe for different smokes. Only takes a few seconds to exchange cartridges.
Why Very Few People Connect Our Name 'Sneak A Toke' To Our Products
To continue with our story, in the early '80's federal and local laws were passed. These laws prohibited sales of "any item intended for use with illegal substances". That is why, for many years, 'head shops' became 'smoke shops' or 'tobacco stores' and any request for an item such as a h*sh pipe or a b*ng and you would be made to leave the store because you had broken the law by asking for an item intended for illegal use, putting yourself and the store in legal jeopardy.
We never trademarked our name "Sneak A Toke". Nor could we have afforded to apply for a US patent during our first year of business, which is the limit of your eligibility to apply for a US patent.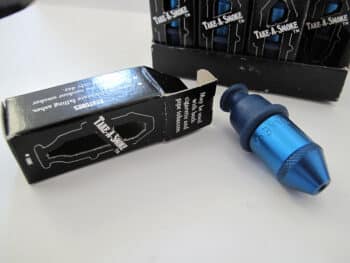 Because of this, we decided to change our name from Sneak A Toke to Take A Smoke. Pictured above (circa 1983) is how we repackaged and rebranded our items. This is also what our Sneak A Tokes looked like and what the current bunch of cheap, imported copies still look like today.
Since it wasn't safe to own the name Sneak A Toke, other 'stealth pipes' began to use the name. Today our Original Sneak A Toke is most commonly called a 'bullet pipe', a 'zeppelin pipe', a 'concert pipe', etc.
Take A Smoke Pipes and Accessories
Average rating:
0 reviews