ALMOST FIFTY YEARS OF RESEARCH & DEVELOPMENT
Best Travel Pipe
We are always innovating, improving on our existing pipes, and introducing entirely new versions
that will enhance your stealthy smoking experience. As well as looking great the pipe rocks when smoking, with a sturdy base that stays dry and remains within the bowl, making this the best travel pipe.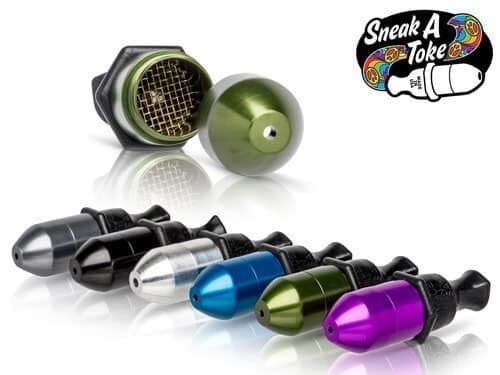 The Original
Sneak A Toke
If you want to smoke discreetly, the Original Sneak A Toke is the best choice out there. The self-extinguishing Original Sneak A Toke is made from solid aluminum and manufactured in the USA. Its hexagon-shaped mouthpiece prevents it from rolling around, and it has no threads inside the bowl, making it easy to clean.
Don't be fooled by the copycats and imitators! There is only ONE Original Sneak A Toke and you can purchase it here.
About
Sneak A Toke Pipes
The Original Sneak A Toke smokeless pipes are superior to all of their knockoffs. We were the first, and our pipes have been made exclusively in the USA since 1976. Over the years, we have made several improvements to our legendary product. For instance, the threads were originally on the inside of the bowl, where they would become caked with resin.
Now, the exterior threads make the pipe much easier to use and clean. With a hexagon-shaped mouthpiece that prevents the pipe from rolling around, heavy-duty brass screens that are custom-sized to fit each Sneak A Toke perfectly and larger holes that are less likely to become clogged, we've perfected our Original Sneak A Toke for your discreet smoking pleasure. You can consider it as best travel pipe or journey pipe.