Description
Original Sneak A Toke also known as a Bullet Pipe
The Original Sneak A Toke pipe with rubber mouthpiece, also called a Bullet Pipe, is the first in our line of stealth smoking pipes in 1976. Of course, we've updated it and made it better since then. Furthermore, the new dry herb cartridges fit the pipe. You can see a video about using the herb cartridges on our youtube channel.
The Original Sneak A Toke is our FIRST self-extinguishing, stealth smoking pipe.
High quality piece straight from its inventor, not a cheap imitation.
Hexagon-shaped rubber mouthpiece prevents pipe from rolling.
Smooth bowl with no interior threads for easy cleaning.
Comes in 6 different colors.
Will accept our innovative Dry Herb Cartridge for easy cleaning and refilling. Add them at checkout.
Replacement Heavy-duty brass screens available for purchase. Also available at checkout.
Replacement Rubber Mouthpieces available for purchase. Also available at checkout.
Also available as a Sneak A Toke with wood mouthpiece for a little more class.
Made in the USA!
We are now offering colored mouthpieces, the same color as your pipe. Only $1 more. If you want to save money, take a look at the Sneak A Toke Mismatched/scratched pipes.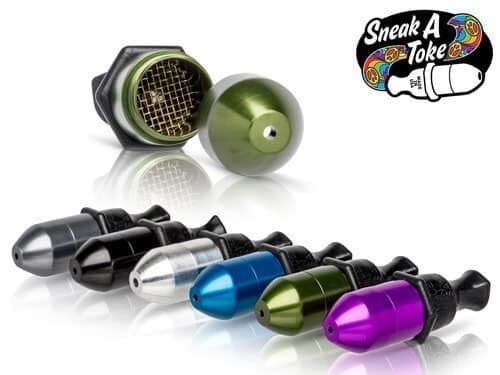 Save yourself money by buying one of our Bundles. They include Original Sneak A Toke with Accessories and Gift Bundles. Or you can just get this same pipe with colored mouthpieces: Original Sneak A Toke Colored mouthpieces
The Urban Dictionary has it's own definition of the Sneak A Toke. Some fun reading.
Details of the Original Sneak A Toke, also known  as a Bullet Pipe
Includes: Pipe with hexagonal "stop-roll" mouthpiece and 2 heavy-duty brass screens sized to fit perfectly inside the pipe.
Materials: Solid aluminum pipe, anodized to add final color, with FDA approved silicone rubber mouthpiece.
Dimensions: 2 3/8″ long x 3/4″ wide. Bowl is approximately 5/8″ deep.
Since 1976


Please Note: This product is for legal smoking substances only. It is NOT intended for illegal use. You must be 21 years old to purchase our pipes.
Original Sneak A Toke
Average rating:
0 reviews